Tommy Blake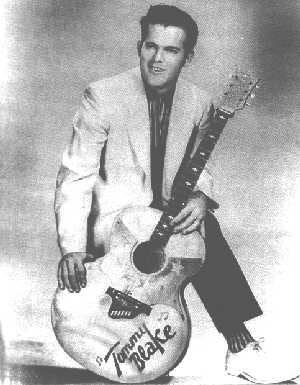 No matter from which angle Tommy Blake's life is analysed, one final conclusion is more than evident, the life and recordings of this tortuous performer were marred by disaster almost from the beginning. The potential existed, but was thwarted by circumstance , self- induced or otherwise, at every corner. Despite this, Tommy Blake's desire to perform and write music has left a considerable legacy for any fans of the solid sound of the Big Beat.
Born Thomas Levan Givens in Dallas, Texas on September 14, 1931, Tommy was jailed for rape at an early age, then signed with the Marines for a tour. While enlisted Blake lost an eye, the circumstances of which are unknown. On discharge from the Marines, Blake formed the basis of the Rhythm Rebels, comprising Carl Adams on guitar (later becoming lead guitarist for Dale Hawkins) and Eddie Hall on bass. The combo managed to gain a regular spot on KTBS in Shreveport, plus various other stations around Shreveport and Ruston. Regular appearances on the 'Big D Jamboree' and 'Louisiana Hayride' followed in 1955, gaining Tommy and his boys much needed exposure.
Buddy Young, who operated the appropriately named Buddy label in Marshall, Texas picked up on the trio's talent, issuing Tommy's first disc in 1956. The top deck, "Koolit", was Blake's first venture into the growing idiom of rockabilly, whereas Tommy remained loyal to his country roots for the flip with "If I'm A Fool". The disc seemed to impact little on the record buying public, but may have been the catalyst that influenced Tommy's inclusion on the 'Johnny Horton TV Show' in Tyler, Texas, during the same year.
Signing with one of the country's major labels, RCA, the following year, Tommy's career seemed to gain momentum. Backed by his Rhythm Rebels, with the addition of primo Nashville session musicians, including Buddy Killen, Floyd Cramer and Farris Coursey, Blake cut a session for RCA during April, 1957. Two titles, written by the trio of Tommy, Eddie and Carl were cut at this session, "Honky Tonk Mind" and "All Night Long". As befits the majority of obscure southern rockers, fate dealt a blow to Blake, when Johnny Horton picked up on "Honky Tonk Mind", recording the song for Columbia just four days before Blake's RCA version. Horton received the nominal hit that should have been Tommy's. RCA head honcho's decided to can the two tracks, in turn issuing a further two tracks cut by the combo, "Mister Hoody" backed with "Freedom".
The trio's luck had not dissipated completely. Later the same year Blake, Adams and Hall met Sam Phillips at a D.J. convention and managed to organise a contract to record for Phillips' Sun label. During the last months of 1957, the trio travelled to Memphis to cut their first session for Sun. Held in November at 706 Union Avenue, Jimmy Van Eaton was added to the line up, rounding out a solid rhythm combo that belted out the immense "Lordy Hoody", a reworking of their earlier RCA cut, and the TV Slim original "Flat Foot Sam". Phillips' saw fit to immediately issue both tracks as a single release, and prompted the trio to return to Sun during March of the following year.
Tommy cut a number of demo's just prior to the March session, each of the titles Phillips' remastered with a full backing band a few days later. Eddie Hall was absent from this second session, Stan Kesler assuming the role of bass player, with the inclusion of Jimmy Wilson on 88's and Roland Janes sharing lead picking duties with Carl Adams. Four titles resulted from this session, Phillips' choosing to issue "Sweetie Pie" coupled with "I Dig You Baby", other cuts, "Shake Around" (picked up a few months later by Ray Smith on Sun) and "You Better Believe It" remained in the can. A further two demo recordings exist performed by Tommy, including "Cool Alligator" and "I'll Be Free", which were recorded around the same time as the above session. However, whether these demos were recorded at the brief pre-March Sun demo session is not certain.
Following the unsuccessful second Sun session, Blake departed company with Sun, soon signing with Recco, recording a handful of sides for the label in Louisiana in 1959. However, Blakes Recco sides, plus his later sixties releases for Aetna, Chancellor, 4 Star and Paula did not seem to impact on any charts.
During this period Blake began concentrating more on his song writing abilities, Co-inking "Cool Gator Shoes" with Carl Belew in 1959 which the latter cut for Decca that year (Decca 30947), plus writing or Co- writing "The Story Of A Broken Heart", picked up by Johnny Cash on Sun in 1958, "Lonely Street" and "Am I That Easy To Forget".
The next two decades marked the beginning of a downward spiral for Tommy Blake. Not only was Tommy signing away the rights to songs he was writing, he was also succumbing to alcoholism, drug abuse, weathering three marriages and coping with heart disease. Blake did continue to record throughout the sixties, though the seventies seemed to usher Tommy's exit from the music scene completely. Finally, Tommy exited the land of the living on Christmas Eve, 1985, when his third wife shot him to death under the Christmas tree in his Carthage, Texas home.