The Coasters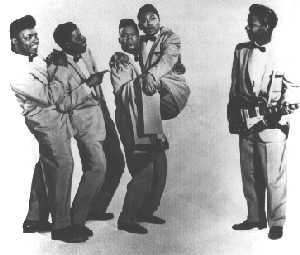 The Coasters' comic vocals plus the writing and production of Jerry Leiber and Mike Stoller resulted in a string of wisecracking doo-wop hits in the late Fifties. The group originated in the late Forties as a Los Angeles vocal quartet, the Robins. Proteges of Johnny Otis, they recorded for Savoy Records, hitting No. 1 on the R & B charts in 1950 with "Double Crossing Blues", which featured Little Esther Phillips. They began their association with Leiber and Stoller when they moved from Crown Records to RCA in 1953. When Leiber and Stoller founded Spark Records in 1954, the Robins became the label's most successful act, hitting on the West Coast with "Riot in Cell Block No.9", "Framed", "The Hatchet Man", and "Smokey Joe's Cafe". The last named song attracted Atlantic Records, which bought the Robins' catalogue in 1955 and contracted Leiber and Stoller as independent producers.

At that point the Robins split into two groups, Carl Gardner and Bobby Nunn staying with Leiber and Stoller, while the other Robins went on to record with Whippet Records, Billy Guy and Leon Hughes joined Gardner and Nunn to become the Coasters (so named because of the West Coast origins).

Their first single as the Coasters, "Down in Mexico", made the R&B top ten in 1956. Its double - sided followup, "Searchin'" b/w "Young Blood", went to No 1 on the R&B charts and No 3 on the pop charts in 1957, it was the first of the Coasters' four gold records. The group, together with Leiber and Stoller, moved to New York and - after making several personal changes (bringing in Cornelius Gunter from the Flairs) returned to the charts with "Yakety Yak" (No 1, 1958), "Charlie Brown" (No 2, 1959), "Along Came Jones" (No 9, 1959) and "Poison Ivy" (No 7, 1959). Their backup group often featured King Curtis on sax and Mickey Baker or Adolph Jacobs on guitar. In the last years of the decade, the Coasters were the most popular black Rock and Roll group in America.

Four more Coasters records made the Top Forty in 1960 and 1961 and (joined by Earl Carroll, formerly of the Cadillacs, and Ronnie Bright, the featured vocalist on Johnny Cymbal's "Mr Bass Man" ) they continued to record for Atco until 1966. Their last chart appearance was in 1971 ("Love Potion No 9," No 76), and they last worked with Leiber and Stoller in 1973. In recent years, Nunn, Gardner and Hughes individually, and Guy and Jones together, have led groups billed as the Coasters.