Everly Brothers
Kindly provided from Millie's scrapbook - mid 60's.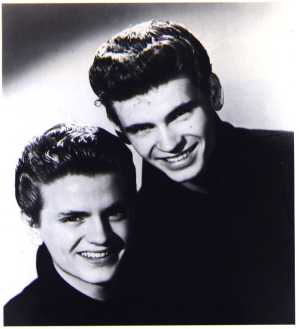 To see two young fellows dressed in tight fitting jeans driving around in their Triumph and Healy sports cars out on a highway in suburban Nashville you would never know they were the hottest recording act in the business. These boys would be headed for the Everly's beautiful home on the outskirts of Nashville, where several of the boy's cars are parked in the drive. If you could witness their arrival in Nashville, you would see that they are none other then don and Phil, the Everly Brothers. The handsome couple coming out of the den on to the spacious patio would be Mom and Dad Everly and chances are, if you could remember back a few years, you would remember them as Mid- Western country stars Ike and Margaret Everly.
This is a glimpse of the Everlys as they are today - let's see what brought them to where they stand today.
Don, 25, Phil, 23, (remembering this is from the mid 60's) were born in Brownie - Don on 1st February 1937; Phil on 19th January 1939. When they were six and eight respectively, they made their first public appearance in Shanandoah, Iowa, on radio station KMA. For several years there after the family spent their summers travelling around the country and also performing on the Family Radio Show, settling down only during the winter months so that Don and Phil could attend school.
When Don and Phil finished High School their parents decided to retire. This gave the boys quite a decision to make. Either they had to go out on their own to search for a musical career or follow some other field of endeavour. Luckily for all of us they decided on a musical career. One thing was in both their minds - "Where do we go and what do we do?". Having moved to Nashville in 1955 as their first step, they continued to hear and name Acuff-Rose Publications and Wesley Brothers. Why not try there. After all, we are down to our last few dollars and something has to happed fast.
When Don and Phil walked into the Acuff-Rose office with several big names in the recording field around and many hit tunes being played, the boys momentarily lost their self confidence and assurance. When one of the private secretaries ushered them into a large private office and they met Wesley they immediately had the feeling of belonging to the place. After an interview and audition it was agreed the big push would be for the 'Everly Brothers'.
They were hired as songwriters with Don having minor success when his "Thou Shalt Not Steal" became a hit for Kitty Wells. The brothers also recorded a country single entitled "Keep On Loving Me" for Columbia before singing with Cadence in 1957. Songwriters Felice and Boudleaux Bryant gave them "Bye Bye Love" (previously rejected by thirty acts) which became an international hit topping the country charts in 1957 and establishing an Everly style with close country harmonies over a rockin' beat. This songwriting duo wrote many more hit records for them including "Wake Up Little Susie", "All I Have To
Do Is Dream" and "Devoted To You".
This was the beginning of what is known as the "Big Time" for the boys. The next few years took them into forty eight of the fifty states of America and also tours of Australia, Canada and Europe, sporting matching suits and haircuts, identifiable only by the differing colour of their hair. (Don's being darker).
Many attendance records were set on many of their tours. During many of their network TV shows they have shared billing with such big names as Bob Hope, Perry Como, Arthur Murray, Dick Clark, Roy Rodgers, Patti Page and many others.
Their heyday continued on until 1962 by which time they had signed with Warner Bros. During the brothers three years with Cadence (leaving over a dispute with royalties) they averaged a Top Ten hit every four months including country hits "Bye Bye Love", "Wake Up Little Susie", "All I Have To Do Is Dream" and "Bird Dog".
Self penned hits include "Till I Kissed You" and "When Will I Be Loved" and their best selling single "Cathy's Clown" (exceeding two million sales) came after switching to Warner Bros. However, success with short lived and their string of hits ended with the release of "That's Old Fashioned" (#9, 1962).
While at their home in Nashville they enjoyed riding and caring for their two horses, as well as tinkering with their cars. They enjoyed the casualness and seclusion that they found in their homes. While on the road it was almost impossible to leave their hotel for fear of being mobbed by over anxious fans. However, they were always happy to meet their fans and give autographs.
Up to the mid 60's they had sold something like sixteen million records world wide and were voted as best vocal group in England for two years straight.
Update
Despite continuous releases on Warner Bros. ("Bowling Green" 1972) their careers slowed considerably being plagued with personal problems (both being addicted to speed and Don hospitalised for a nervous breakdown). Their relationship became increasingly acrimonious and came to a head at the John Wayne Theatre at Knott's Berry Farm, Hollywood in July 1973, with Phil smashing his guitar and stalking off stage leaving Don to announce the duo's obvious breakup.
Don has had minimal success as a solo artist teaming with English guitarist Albert Lee and returning to country music with releases like "So Sad To Watch Good Love Go Bad" on DJM and album "Brother Jukebox", getting together with brother Phil for occasional tours.