Bill Haley
and his
Comets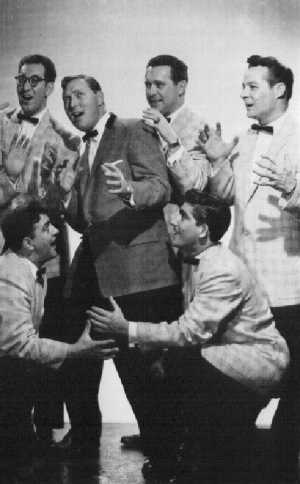 Bill's first professional gig was with a group out of New England called the "Down Homers"; it was this experience that prompted him to start his own band, along with Billy Williamson on steel guitar and John Grande on accordion and piano. Bill called the group "The Saddlemen", but in 1952, he changed the name to "The Comets", complete with bass player Marshall Lytle and drummer Charlie Higler. There was no lead guitar player at first -- Haley and Williamson shared the honors for a time, preferring to use session musicians such as Danny Cedrone, Art Ryerson and later Franny Beecher on recording sessions only. Higler was with the group only a short while before being replaced by Earl Famous and then Dick Richards in 1953.

There were some changes along the way, of course, and the Comets who signed with Bill on Decca in 1954 and recorded the rock classic "Rock Around The Clock" were: Grande, Williamson, Lytle, and Joey Ambrose (sax); session musicians Danny Cedrone (lead guitar) and Billy Gussak (drums) were also used on that historic session.

Rudy Pompilli joined in 1955, Al Pompilli in 1958, Ralph Jones in 1955, and Franny Beecher finally became a full-fledged Comet in 1955 as well.

The fifties - Eisenhower sat secure in the White House, peace had settled on the land (once the Korean War was out of the way), prosperity had arrived and for the first time in years we had time for fads, fancies and folk heroes.

There was time, too, for a new generation - a generation that wasn't going to have to go to war, a generation that had money and leisure and the freedom to decide what to do with them. There were a few minor concerns, of course; the H-bomb, the McCarthy hearings, UFO's, the Kefauver investigations - but all in all the times were good and the living was easy.

It wasn't hard to fill all that leisure time if you were a kid - there were movies (James Dean "Rebel Without A Cause", was every teenager's inner vision of himself); there was television (Dick Clark's "American Bandstand" propagated rock across the country); and of course there were records - when the fifties started, crooners like Sammy Kaye, Frankie Lane, Teresa Brewer and Nat "King" Cole were the pop stars at the top of the charts. By mid-decade rock'n'roll had taken over and Bill Haley was in first place with "Rock Around The Clock". By the time the sixties rolled around the omnipotent charts had reached a sort of compromise between the two with artists like Paul Anka and Frankie Avalon.

Nineteen fifty-five - that was Bill Haley's year. Bill may not have invented rock - a kind of blending of the music of white back-country balladeers with black rhythm and blues - but he had a lot to do with making it a kind of teen religion. In 1953, Bill was one of the first rockers to get on the pop charts with "Crazy Man Crazy", and if a record was on the charts, that meant that it was being played and that it was being bought. Then in 1954, Bill Haley got His Comets together and they signed with Decca, recording songs like "A.B.C. Boogie", "Razzle Dazzle", "Thirteen Women", and "Dim, Dim The Lights". Come 1955 and "(We're Gonna) Rock Around The Clock" was released-suddenly, Bill Haley and His Comets were a national phenomenon, a fixture on every radio, phonograph, and juke box in the country. The kids rocked out and Bill and the Comets made out - "Rock Around The Clock" even went to the movies as the theme song of "Blackboard Jungle" with Glenn Ford, Anne Francis, Sidney Poitier and Vic Morrow. Bill and His Comets collected their awards and their gold records and released some more hits like "Burn That Candle", "See You Later Alligator" (which fast became part of the cool "jive" talk of the day), "Shake Rattle and Roll" (actually released late in 1954; Big Joe Turner recorded it first for Atlantic), and "Rock-A-Beatin' Boogie".

Bill Haley's kind of rock had a wide appeal; "Rock Around The Clock" blared out of the back bedroom window of thousands of stucco houses in white suburbia, but it also reverberated through the streets of Harlem one of the five records by white singers to make the r&b top ten charts between 1950 and 1955 (Bill also scored with "Dim, Dim The Lights").

Nineteen fifty-six was another good year, but by then the competition was a little stiffer. Rock'n'Roll had become a household word (much to the dismay of many an outraged parent); ducktails, rhinestones, short shorts, bubbles and beehives were the fashion and Elvis Presley had bumped, ground, and shimmied his way onto the scene. But Bill was holding his own with songs like "Rip It Up" (originally a little Richard hit; Bill put it on the charts again), "Rockin' Thru The Rye", and "R-0-C-K" (flip side: "The Saint's Rock 'n' Roll") from the Columbia picture "Rock Around The Clock", which also featured The Platters and disc jockey Alan Freed - the same New York D.J. who had originally coined
the term "rock and roll" from the raunchy old blues lyric "My baby rocks me with a steady roll".
The kids went where the music was. Their favourite hang-outs were soda shops and corner drugstores with juke boxes - or drive-in movies that played rock flicks. There was "Rock Around The Clock" and "Don`t Knock The Rock" (Bill and His Comets did the title song) and a whole host of Elvis Presley features; even Bill's 1954 "Razzle Dazzle" had a bit part in a '56 film - the song was heard playing on a juke box in "Running Wild" with Mamie Von Doren and Keenan Wynn. There were a lot of would-be rockers trying to make it big but it looked as though there would always be enough business - and enough frantic teenagers - for everyone.

Elvis Presley wore black leather, pink satin and a ducktail; Bill had his own style, the plaid jacket and famous spit curl. His image remained pretty much unchanged throughout the fifties but he adapted his material to whatever was needed at the time - towards the end of the decade the craze was for Hula hoops, phone-booth stuffing and fun songs - Bill was ready with "Skinny Minnie", "Rockin' Rollin' Rover" and "Two Hound Dogs", about a couple of canine pals named Rhythm and Blues. Whether it was a novelty song, dance sounds for a sock hop, bop, hand jive, or just plain rock'n'roll, Bill's music always had one thing going for it - a hard lively foot-stompin' beat.

There've been a lot of things happen to rock 'n' roll since those early days when Bill Haley and his Comets shattered the bland and sophisticate mood music of the forties, bringing with them a whole new breed of rocking raving, shrieking performers, a new kind of nonsense/some sense lyrics, a new kind of beat and melody, something that the teens could dig because it was all their own. Since then, even the Beatles have come and almost gone - but not without acknowledging their debt to Bill Haley, Elvis, B. B. King, Carl Perkins and some of the early rockers who changed the course of today`s music and brought back blues into the mainstream of American music. Bill may not have been riding the charts for the last few decades but his records are still very much around because old rock never dies and his beat still lives on.

Thanks go to Alex Frazer-Harrison for his assistance with this article.