Frankie Lymon
and the
Teenagers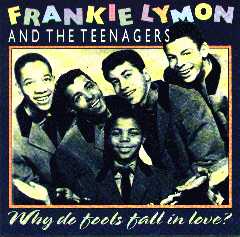 Frankie Lymon (b-Sep. 30,1942, New York City; d. Feb.28, 1968), lead vocal;
Sherman Games (b. June 8,1940, New York City; d. 1978), bass;
Joe Negroni (b. Sep. 9,1940, New York City; d. 1977), baritone;
Herman Santiago (b. Feb.18 1941 New York City), first tenor;
Jimmy Merchant (b Feb. 10,1940, New York City), second tenor.
When he was 13 Frankie Lymon had a #1 R&B (#6 pop) record with "Why Do Fools Fall in love?" At 18, his career was over; eight years later, he died of a heroin overdose. The rags- to- riches- to- rags story began in New York, where Lymon and the Teenagers were school friends who sang on street corners. In 1955, Richard Barrett of the Valentines heard them and arranged for the group to he signed by his record label, Gee. At this time, they were known as the Premieres, but were soon re named by Gee executives. "why Do Fools Fall in Love?'', credited to Lymon and producer George Goldner, was their first record. Originally, Santiago was to sing the tune, but when he begged off with a sore throat, Lymon took lead, and his boy soprano became the group's trademark.
"Fools" was one of four Top Twenty R&B songs off the Teenagers' debut album; the others were ''I Promise to Remember" (#10, 1956) (#57 pop), "I Want You to Be My Girl" (#3, 1956) (#13 pop) and "The ABC's of Love'' (#l4, 1956) (#77 pop). The LP also included ''I'm Not a Juvenile Delinquent,'' which the group sang in the film Rock, Rock, Rock in 1956. The song flopped in America, but became a #12 hit in England. A year later, after appearing in another movie, Mr Rock and Roll, Lymon left the group for a solo career.
The Teenagers continued without him, but were unsuccessful. Lymon, too fell on hard times, mostly due to his worsening drug addiction. His first 45, "Goody Goody," was a modest hit (#20 pop, 1957); subsequent records were outright flops. A comeback attempt in 1960 with Bobby Day's "Little Bitty Pretty One'' hit #58. In 1961 Lymon was forced to undergo a cure in a New York hospital and the following, year he tried to come back in to show Business. Totally forgotten, Frankie Lymon was found dead on his grandmothers bathroom floor on February 28, 1968.
Frankie's brother Lewis, lead singer with The Teenchords, did a one-off gig with The Teenagers in Philadelphia, in 1973.
In 1980, Santiago and Merchant recruited Pearl McKinnon and, in 1981, Derek Ventura, and started performing once more as the Teenagers. "Why Do Fools Fall in Love?" has proven its durability, becoming a hit record again for the Happenings in 1967 and for Diana Ross in 1981.
Meanwhile the royalties on the song "Why Do Fools Fall In Love" had reached more than a million dollars and in 1986 three women claiming to be Lymon's widows were fighting with the record company over it.
There is no singing group more distinctive in its sound than Frankie Lymon & The Teenagers, whose plush tones have won their way into the hearts of countless listeners.