Carl Perkins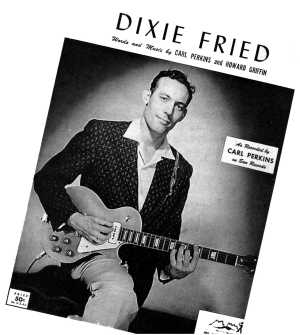 Music entered into the life of Carl Perkins from two sources, the Grand Ole Oprey and a black sharecropper from across the field. The black cropper was John Westbrook and Carl used to call him Uncle John. Although Carl claims to have no direct influences, his style was obviously formed by listening to the Oprey. In particular, he remembers "Butterball" Page,who played single-string lead with Earnest Tubb in the late 1940's.
In the early 1950's the Perkins Brothers Band was formed with Carl (lead guitar & vocals), Jay Perkins (rhythm guitar) Clayton Perkins (bass) and W.S. Holland (drums). By 1954 their repetoir, as did that of many of the local bands in those days, included a fair sampling of hillbilly standards:- "Always Late (With Your Kisses)", "Jealous Heart", "Honky Tonk Blues" and "Lovesick Blues" ; and a little pop music, in the form of "I'll Walk Alone" and a pointer towards the future "Carl's Boogie".
The thing that made the Perkins Brothers stand out was Carl's unique style which borrowed much of the feeling, phrasing and
rhythm of black music. With a steady backbeat maintained by the bass and drums Carl would accentuate the rhythm by hitting the bass strings of his electric guitar while he sang. One day Carl's wife,Valda, heard Elvis Presley singing "Blue Moon Of Kentucky" on the radio. She called out to Carl "That sounds just like y'all.". It wasn't long before Carl had found out that Elvis was recording for the Sun label and the Brothers headed for Memphis. In February 1955 the first Carl Perkins single was released on Sam Phillips new Flip label. The sound that Phillips had admired was in full swing on "Turn Around" coupled with "Movie Magg". Shortly after the Flip release, work was started on Carl's first release for the Sun label. "Let The Jukebox Keep On Playing", a Hank Williams style song, was couples with "Gone, Gone, Gone", a song that owed nothing to anyone, it was pure rhythm and blues. The single was released on 1 August 1955, the day Elvis recorded his last song for Sun Records.
Carls next single "Blue Suede Shoes" was something special. It has been called the first Rock'n'Roll record by some, due to the fact that this was the first song to cross the boundaries and make it almost to the top of all of the American charts (pop, country and rhythm & blues). This song came about when Carl was playing at a honky tonk in Jackson Tennessee, he observed a dancer in the crowd who paid more attention to keeping his new shoes from being scuffed than he did to the pretty girl he was dancing with. The incident reminded him of a story Johnny Cash had told him about a black guy he had known in the air force who jokingly warned people not to step on his spit-shined government-issue footwear, which he called his blue suede shoes. A few days later Carl awoke with the two incidents going around in his head. An old nursery rhyme came to mind, One for the money, Two for the show etc., and within fifteen minutes he'd written "Blue Suede Shoes". The song was released with "Honey Don't", another classic rockabilly track, and reached No.2 in the U.S pop charts and hung around for 17 weeks. "Blue Suede Shoes",released in December 1955, was to be Carl's chance at the big time. The song was high in the charts and he set of on a promotional tour. While on his way to New York to promote the song on the Perry Como TV Show along with his brothers and manager Dick Stuart, he was involved in a car accident.
It was March 21 1956, Dick had fallen asleep at the wheel and hit a poultry truck near Dover, Delaware. The driver of the truck is killed. Jay Perkins suffers a fractured neck and internal injuries. Carl and Clayton are thrown from the car and Carl has a broken shoulder, cracked skull and lacerations. Jay would later died from a brain tumour in Oct '58.
May 1956 saw the release of Carl's next single "Boppin' The Blues" / "All Mama's Children" followed by "I'm Sorry I'm Not Sorry" / "Dixie Fried" (Aug '56), "Matchbox" / "Your True Love" (Jan '57), "Forever Yours" / "That's Right" (Aug '57) and "Glad All Over" / "Lend Me Your Comb" (Dec '57). This was the end of an era for Carl. He had signed to Columbia Record on 1 November 1957 along with fellow Sun artist, Johnny Cash, and had been waiting for his three year Sun contact to expire (Jan 25 1958).
Carl never seemed to be able to recapture the bite that had been so evident in his Sun recordings. The songs "Pink Pedal Pushers" and "Jive After Five" (Carl's first release for Columbia) are possibly Carl's best post Sun offerings. Even the re-recordings of his Sun material for Mercury, seem to lack the energy that was so evident in the originals. Even "Dixie Fried sounds like a report on a church social.
In 1964 Carl was invited to tour England with Chuck Berry. He walked on stage to be welcomed by a sea of banners saying "Welcome Carl 'Beatle Crusher' Perkins" and "Welcome King Of Rock'n' Roll". Carl toured for 4 weeks and became the conquering hero for the rockers, who at the time were having a musical war with the beat group followers (mods). On the last night of the tour he was invited to a party. There he met the four young men (The Beatles) who, at the beginning of the tour meant nothing , but now loomed so large in his thoughts. There was very little rockabilly music available in England at this time and Carl's "Dance Album" was the centre piece of any true rockers record collection. The Beatles knew all of Carl's songs and asked if he would sing, Carl sang every song he had ever recorded and the Beatles knew every word.
Carl was invited to a recording session the next day and Ringo asked if they could record some of his songs. Carl, with dollar signs in his eyes replied, "help yourself, the whole catalogue's yours". The Beatles recorded more Perkins song than they recorded by any other composer other than themselves. The adulation in Europe continued into the Eighties. Carl decided he wanted to get all of his disciples together in one place. The place was the Limehouse Studio in London on October 21, 1985. George Harrison and Eric Clapton were among those who attended and Dave Edmunds stage-managed the show. Carl had to fight back the tears as he thanked them after the inevitable encore of "Blue Suede Shoes".

Recommended listening:

The Original Carl Perkins
Charly Records CR 30110

Honky Tonk Gal (rare & unissued Sun masters)
Rounder Records CD/SS 27