Marty Wilde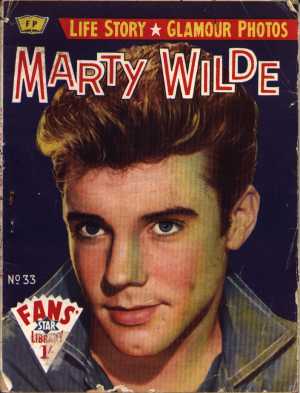 Marty Wilde started out in his music career in 1956 with his group, the "Hound Dogs", playing skiffle. Before long Marty became interested in rock'n'roll, as did most teenagers of the day and began to play regular spots at the Coffee Bars and Night Clubs of London. It was at one of these Coffee Bars, The Condor, that Larry Parnes, the well known impresario, first saw Marty. After the show Parnes wandered back stage to have a word with the teenage rock'n'roller, only to be told "he had ran off to catch the last bus home". Parnes asked more questions about Marty and found that he lived in Greenwich near a big car showroom. The next day Parnes went to Greenwich to try and find Marty. He was just about to give up when he saw a garage that matched the description he'd been given. The salesman had seen Marty and thought that he lived "Down that street over there", so Parnes knocked on every door in the street until he found Marty's home. Marty, whose real name is Reginald Smith, signed an agreement with Parnes, after getting the consent of his parents, and took the stage name of Marty Wilde.
Marty was taken to a taylor to be fitted with a smart suit and sent to a dentist to have his teeth straightened. Hand made shoes and monogrammed shirts, ties and hankies were bought for him. Parnes then booked Marty to appear at the Winstons exclusive night club. At Winstons that night Josephine Douglas, the driving force behind televisions "Six-Five Special", saw Marty and was so impressed with his version of "Honeycomb" that she booked him to appear on the next edition. Things really took off from here. Johnny Franz, recording manager for Phillips records, saw the show and immediately called asking for Marty. The result was Marty's first single, "Honeycomb / Wildcat", which made No. 30 in the British charts.
Marty had no chart success with his next two singles, "Afraid of Love / Love Bug Crawl" and "I'm Falling in Love / Sing Boy Sing", but hit No. 4 in mid 1958 with his cover version of Jody Renolds' "Endless Sleep" coupled with "Her Hair was Yellow". Marty again had no success with his next two singles "Misery's Child / My Lucky Love" and "No One Knows / The Fire of Love".
1959 was a great year for Marty. All of his singles made the charts this year "Donna / Love-a Love-a Love-a" No. 3, "A Teenager In Love / Danny" No. 2, "Sea Of Love / Teenage Tears" No. 3 and the self penned "Bad Boy / It's Been Nice" making both the UK and US charts.
By 1960 Marty had become a regular on Jack Good's "Oh Boy" TV show, where he performed alongside Cliff Richard, Billy Fury, Vince Eager and the Vernon Girls. This is where Marty met his future wife, Joyce Baker, who was one of the Vernon Girls. He went on to host Jack Good's follow up show "Boy Meets Girl" and scored acting roles in the films "Jet Storm" 1959 and "What A Crazy World" 1962.
Marty's hits didn't stop, 1960 saw him back in the charts with "Johnny Rocco / My Heart and I" , "The Fight / Johnny at the Crossroads", "Angry / I Wanna be Loved by You", "Little Girl / Your Seventeenth Spring" and "Rubber Ball / Like Making Love". 1961 with "Hide and Seek / Crazy Dreams", "Tomorrows Clown / The Hellions" and 1962 with "Jezebel / Don't Run Away" and "Ever Since You Said Goodbye / Send Me The Pillow You Dream On".
As can be seen from the songs listed above, most of Marty's hits were ballads, however, his reputation as a rocker comes from his live performances on "Six-Five Special" and "Oh Boy", along with his first LP "Wilde About Marty", which contains great covers of songs made famous by Jerry Lee Lewis, Elvis, Buddy Holly and Bobby Darin.
Today Marty is very much the family man, he and Joyce have four children, however, Marty still manages t find time to tour the UK most years. His eldest daughter Kim has some success with her singing career, assisted by Marty and brother Ricky's writing and producing skills. With the youngest of the children Marty Jr. and Roxanne still in their teens the Wilde family could still be having recording success for years to come.
Recommended Listening
The Hits Of Marty Wilde Phonogram :- Time 8
The Wildcat Rocker
Star Club Records:-Jan33-8007