Link Wray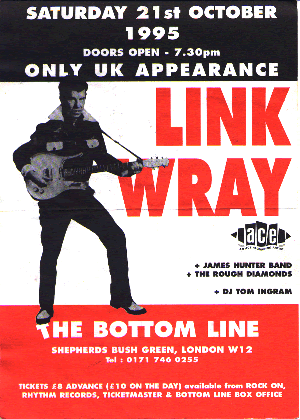 Any way you look at it, Link Wray is THE number one string buskin genius, reigning supreme over lame, no talent guitar totin' fakes like Clapton, Beck and Townsend. One can view the many rock and roll documentaries currently available, all of which spout unaccounted wisdom for the multitude of mid-sixties predominant pickers (of which three have already been mentioned), but all fail to even offer a fleeting murmur of the raw and innovative talent of one Link Wray and his band of misfits, the Raymen. When analysing the history of modern guitar playing, one conclusion is more than evident, Link Wray is the father.
Link was born Fred Lincoln Wray on May 2, 1929 in Dunn, North Carolina and began playing guitar at the early age of four years old when a local picker, simply named Hambone, offered the young link a crude axe and a few brief lessons. This early interest in guitar playing led to Link forming his first band, according to some sources, in 1942. However, the general view, as proffered by Billy Miller, was that Link joined his brother Vern's first hillbilly combo during the early fifties, on Link's discharge from the services. This backwoods hillbilly outfit, fronted by Vern (who was performing under the moniker of Lucky Wray at the time), included Link strummin' on the six string, a young Shorty Horton on dog house and a steel guitarist named Dixie. Vern peddled the group's wares at various water holes such as the White Rabbit in Portsmouth and the Rathskellar in Norfolk, not to mention the many other now forgotten naval beer joints around the area, before gaining a regular gig at the Lazy Pine Ranch. At this time, the group underwent a name change to the Lazy Pine Wranglers, but soon changed their named once more to the Palomino Ranch Gang when a gig was secured at the Fernwood Farms dance hall. Link's younger brother, Doug, also joined the group as rhythm guitarist.
By the mid-fifties, the Wray family was on the move to the more upmarket suburbs of Washington, D.C. Local D.C. nightspots such as the Ozarks, the Dixie Pig and Vinnie's became the locale's from which the Palomino Ranch Gang now belted out their crude hillbilly raunch. These regular performances probably led Link into befriending some Washington songwriter's, who seemed to be more than willing to offer what material they had. Link wasted no time in committing the songs he was given to shellac. The crazed warblers "I Sez Baby" and "Johnny Bom Bonny" were soon released on the D.C. based Kay label, followed by half a dozen titles, credited to Lucky Wray and the Palomino Ranch Hands (with vocals handled by Vern), issued by Pappy Daily as part of his Starday custom series. Unfortunately, the Kay and Starday custom discs were pressed in limited quantities, so any ideas of fame that the brothers may have had at the time were soon thwarted.
Link's career took a further downward spiral early in '56 when he once again contracted TB (which had ailed him during his service in Germany), with brother Doug also succumbing to the disease. Both Link and Doug spent much of the year recovering. Link paid a greater price though, losing a lung.
While brother Link was bed ridden, Vern was living up to his nickname of Lucky, gaining a contract with the newly formed Philadelphia based Cameo label. More than a handful of the long green was offered, with Cameo reps also demanding that Vern change his name to Ray Vernon, in order to compete with the teen idol market. Vern cut his first session for the label in '57. Link, with permission from his doctor's, attended the session peelin' out with cool licks on "Evil Angel" and the rockin' "I'm Countin' On You".
Vern was now ridin' the solo trail, scoring big points on Mark and Liberty, with lesser efforts on Lawn and his own label, aptly called Ray Vernon, so Link reformed the Ranch Hands into a trio, rechristening the combo the Raymen. Vern maintained his presence with Link and the boys though, becoming something of a manager for the group, and organising numerous gigs for them throughout the D.C. area. Local D.J. Milt Grant soon picked up the combo's act, offering to sponsor them financially and using the Raymen as a diverse backing band for his many shows. It was probably at one of these live gigs that Link struck upon the concept of "Rumble", which would soon be his crownin' cruncher. Link claims that at a Fredricksburg gig the young-uns in the crowd were screamin' for 'em to crank out a stroll number. After contemplating the idea, Link strummed the first chords of "Rumble", which was then untitled, and the chilluns began screamin' and hollerin'. The hit was in the bag. Vern also noticed the crowd's reaction and asserted that there may be a potential chart maker in the menacing twang of "Rumble". Link hustled the boys into the U.S. Recording studio in D.C., and, one mauled amp and three takes later, "Rumble" was captured on tape. Another
instrumental, the hillbilly boogie come rock and roll jump number "The Swag", was also waxed, which eventually became the bottom deck of "Rumble". Milt Grant passed the tape containing both cuts to Archie Bleyer, head honcho of Cadence Records, who initially passed on issuing the songs. Only after Archie's daughter hounded him to release "Rumble" did he do so. Issued around April 1958, "Rumble" was an instant hit, sizzling at number sixteen on the Hot One Hundred. Some markets, such as New York City, banned the disc due to it's supposed violent intones. Nevertheless, "Rumble" was a solid chart success, though Archie Bleyer reneged on issuing any further material by the Raymen.
Link's next stop was the Epic label, part of the massive ARC conglomerate. Late in '58 the Raymen cut another demo, this time at D.C.'s Edgwood Studio's. The twangy "Dixie-Doodle" and the raucous "Rawhide" were the result. The tape pricked the ears of Epic brass who decided to immediately release the raw cuts as they were, that is completely unmastered. "Rawhide", the top deck, hit the top forty in January '59 (peaking at number 34), becoming Link's second hit. A three year contract was signed, and Link and the newly dubbed Wraymen were on their way to New York's CBS studio's to cut their first Epic session. With Chuck Sagle at the controls, Link battered the sound meters with "Comanche", a burnin' opus to his ancestry, and the slow instrumental ballad "Lillian". Both cuts became the follow up disc to "Rawhide", but did not fair well on the market. Unperturbed, Epic honcho's organised further Spring sessions, which highlighted the Wraymen's prowess as instro-MENTAL nuts. Mighty guitar workouts such as "Radar", "Slinky", "Dance Contest", the Latin inspired "Guitar Cha Cha", plus the originally unissued vocal number "Oh Babe Be Mine" were the result. From this session, "Slinky", backed with the schmoozy "Rendezvous", became the Linkster's third Epic seven incher.
Live gigs picked up during '59, offering Link the opportunity to spread his talents to a wider audience, and, possibly, open a larger market for his Epic material. Epic brass also decided to release a long player of Link material from the Spring sessions, which, unfortunately, did not garner the interest of the record buying public as was hoped for.
Now becoming rather exasperated at Link's failing attempts to produce a follow up hit to "Rawhide", Epic employee Mitch Miller decided to add a full brass orchestra sound to Link's material. This was a bad ploy for both Link and Epic. Toning down or smoothing out Link's sound was not an easy task. Miller surely could have envisioned that adding a brass section to the lineup of the Wraymen was a fatal error. Miller went ahead with the idea though, with the awful "Claire De Lune" and "Danny Boy" paired for single release.
Link returned to his regular, powerful form for his next Epic session held during June 1960. A number of instrumentals were cut, including the originally unissued "New Studio Blues" and "Walkin' With Link", but the highlight of the session was Link's vocal renditions of Jimmy Reed's "Ain't That Lovin' You Baby" and the Ray Charles original "Mary Ann". Oddly enough, the vocal numbers were chosen for release, Link's only vocal two-sider for Epic.
Nine months later, the Wraymen waxed their last session for Epic. Four further Latin inspired numbers were recorded, but not released until two years after Link's contract with Epic had expired. Link's time with Epic was an important stage of his career. Working with a major label possessed it's inherent problems of talent restriction, but there was also some advantages. Link managed to define his sound further while recording for Epic, which held him in good stead for the next stage of his career, which ushered somewhat of a transitional period. Just prior to the expiration of his Epic contract, Link was recording prolifically at brother Vern's Ray Vernon Recording studio in D.C., which the latter had established in 1959. Innovative material was produced at this studio between '61 and '63, such as the monstrous "Big City After Dark", "Vendetta" (which Vern credited to himself, as Ray Vernon, to avoid legal problems with Epic) and the lowdown "Jack The Ripper", which was released on the Rumble label, formed specifically by the Wray Brothers to release their own material. Released in July '61, "Jack The Ripper" became Link's third chart hit. Releases on a number of other smaller labels ensued with Link also working with other local acts, but, by this time, Link decided to concentrate on live gigs and experimenting with different sounds at Vern's D.C. studio.
Link and the boy's live work around the D.C. club circuit apparently was quite risky, as Doug Wray
explained to Billy Miller, "Every place we played either closed up or burned down! We worked the Alpine, The 1023, The Rocket Room, The Famous and Vinnie's. Man, Vinnie's was the absolute wildest place. You took your life in your hands if they didn't know you! I was comin' to work one night and the plate glass window came out with a body right behind it! Real rough joint. Link's music makes a helluva lot more sense when you realise what was goin' on every night. We were up on the bandstand one night and this guy comes runnin' through the crowd bleedin' like hell and right out the door behind us! Blood everywhere, drippin' down Doug's cymbal, everywhere! This guy took a straight razor and cut him so bad his tongue was hangin' out the side of his face! Many a night a fight would break out on the dance floor and the guy who's gettin' his butt beat would jump right up into the band like he was safe. They had a bouncer named Big Al and Link'd wink at us and tell us 'watch this' and he'd hit the lick for "18 Yellow Roses" and the guy'd heave the cash register into the dance floor. He was crazy!". Other legends abound, such as the inception of the Linkster original "Run Chicken Run". Cub Koda states, "...Link and the boys honed their particular brand of rockin' mayhem working some of the grimiest joints on the planet...That's where "Run Chick Run" was born. The tune was causing small-scale riots in places like the Ozark's Nightclub and Benny's Rebel room,
and legend has it that the band worked this chop suey joint where the boss man would literally plead with Link not to play it. But if the guys wanted the night off early, they would proceed to crank it out for 10 or 15 minutes, until Link's obscene guitar chicken noises had busted the place down to the last chop stick". Crazy times indeed.
By '63 "Jack The Ripper" had been on the market for two years. The discs initial success had waned during '62, but the following year New York disc jockey's picked up on the disc once again, providing it with constant air-time. Swan Records bosses keenly noticed the rejuvenated success of the Rumble label disc and offered, through Vern's wheeling and dealing, Link and the boys an extended contract. Swan's first move was to re-issue "Jack The Ripper" and "Black Widow" to renewed success, and also notified Link that he had complete creative control over the material he produced. Link couldn't have asked for anything more.
Basing his operations at Vern's relocated Accokeek, Maryland studio, Link spent the next four years
recording his greatest material. Ahead of it's time would be a simple description of the recordings Link and his combo were producing during this time. Link's Swan recordings were also as diverse as any of his earlier recorded outings. "Fat Back", "The Fuzz", "Good Rockin' Tonight", "The Shadow Knows", "Run Chicken Run" and "Batman Theme", among his many other Swan recordings, were not hits for Link, but showcased his primo guitar pickin' talents. In all, 14 seven inchers, plus one long player were released by Swan between '63 and '67, hinting at Swan's faith in the guitar totin' genius. Unfortunately, Swan closed it's doors in 1967, slamming shut a partnership that may have lasted until this day if Link had had a choice.
Link rounded out the decade re-recording his past hits for various independent labels, but did manage to lay down some original material reminiscent of his Swan days, including menacing instrumentals like "Genocide", "Hungry" and "Growlin' Guts". However, success was in the past. Throw away albums appeared on the market, notably the Polydor recordings, during the seventies, with Link even forging a relatively brief partnership with rock and roll revivalist Robert Gordon. Link's time with Gordon also initialised a rather ambitious re-issue program of Wray's earlier pre-mid sixties material. London's Ace label was a predominant force behind this program.
Link Wray has performed solo during the last two decades, every now and again recording an LP and performing live shows, just to prove that he is still as wild and innovative as he was in '58 when he first recorded "Rumble".
SHANE